Central Bedfordshire business Go Houghton seizes overall title at the Bedfordshire Food and Drink Awards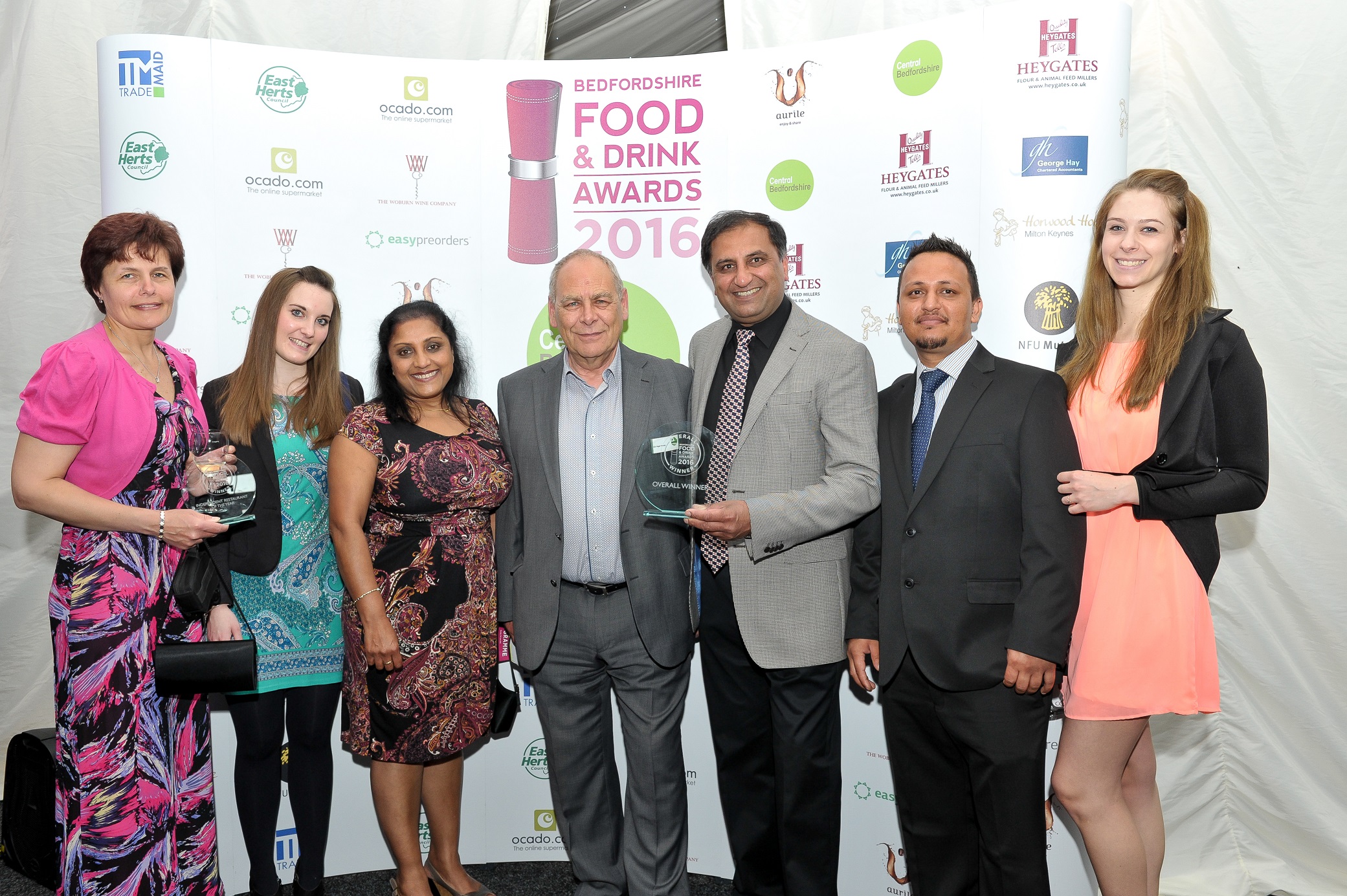 On Monday, June 13th, in the sumptuous, quintessential surroundings of the Luton Hoo Walled Gardens, 140 of the finest food and drink retailers and producers in the Bedfordshire region gathered to hear who would be crowned winners of 15 categories in the 2016 Bedfordshire Food and Drink Awards.
Go Houghton restaurant and bar won Independent Restaurant and seized the title of Overall Winners, Kishor Patel, the proprietor said "Go Houghton are delighted to have been crowned Independent Restaurant of the Year and Overall Winner at the 2016 Bedfordshire Food & Drink Awards. It is a huge achievement which would not have been possible without our great team and our great customer base.
Launching a new dining concept from a dilapidated public house was not an easy journey and having been open for just over 12 months, the journey has been one to savour and we will strive to continue to improve and give Central Bedfordshire a location for all to visit."
The sheer volume of votes by members of the public show even as corporate chains further and further dominate our high streets, the public support, value and promote the hard work, originality and the creative force that drives independent businesses.
Cllr Nigel Young, Central Bedfordshire Council Executive Member for Regeneration, said: "We were delighted to be headline sponsor for the Bedfordshire Food and Drink Awards this year and to celebrate the wealth of innovative and flourishing businesses in the county. Like last year, it was a business from the area that took home the overall winners' award and I would like to congratulate Go Houghton from Houghton Regis for their success.
"The awards, on the whole, have showcased yet another exciting year for Central Bedfordshire with 10 businesses winning, 9 highly commended with 8 others commended. This highlights the strength of the expanding AgriFood sector in Central Bedfordshire, which has more than 300 businesses taking advantage of our rural marketplace, enhanced by our superb transport infrastructure and range of business facilities."
Awards organiser (Events and PR) Damian Cummins said; "Supporting businesses like Go Houghton is at the very heart of what we do.  To achieve the level of success Go Houghton has done requires hard work, determination and an unrelenting quest for excellence.  As any business person knows, customers vote with their feet and Go Houghton customers voted in their droves ensuring a landslide victory.  Kishor Patel has built a business that serves the needs of the community in which it stands, having placed this ethos at the very heart of his offering has ensured his success."
Winners of the other categories were:
Best Artisan Bakery
Commended – Lindsay's Bakery, Potton
Highly Commended – Jo's Loaves
Winner – The Little Buzzard Bakery
Best Independent Butcher
Commended – Stewpots the Butchers
Highly Commended – D&I Family Butchers
Winner – Stratton Butchers
Best Farmers Market Stall
Commended -
Highly Commended – LJ Bakes
Winner – Home Baked Gluten Free
Best Fine Dining Restaurant
Commended -
Highly Commended – Paris House
Winner – The Green Man (Clophill)
Best Newcomer
Commended – Fox & Duck
Highly Commended - Notionberry
Winner – Nonno Joe's
Best Tea/Coffee Shop – Independent
Commended – Martha's Vintage Tearoom AND Espresso Head
Highly Commended – The Lounge at Flitwick
Winner – Cakestand and Crumb
Independent Food Producer of the Year
Highly Commended – La Belle Cake Company
Winner – Meahs curry sauces
Independent Food Retailer of the Year
Highly Commended – Black Cat Farm Shop
Winner – Parkside Farm Shop
Outstanding Service Excellence
Winner – Beego's Sandwich Bar
Pub of the Year – Free House
Commended – The Standard
Highly Commended – The Bell in Studham
Winner – The Crown (Henlow)
Pub of the Year – Tied House
Commended –The Plough Inn
Highly Commended – The Red Lion
Winner – D'Parys
Restaurant of the Year – Chain
Winner – The Embankment
Restaurant of the Year – Independent
Commended – Fratelli Cucina Italiana
Highly Commended – White Hart
Winner – Go Houghton
Craft Beer of the Year
Commended – Restoration Ale, Leighton Buzzard Brewing Co
Highly Commended – Indian Pale Ale, Ampthill Brewhouse
Winner – Narrow Gauge, Leighton Buzzard Brewing Co
Overall Winner
Go Houghton
Photo: Cllr Nigel Young (fourth from the left) with the Over All Winner's Go Houghton -  Kishor Patel, the proprietor (third from the right) and the rest of his team.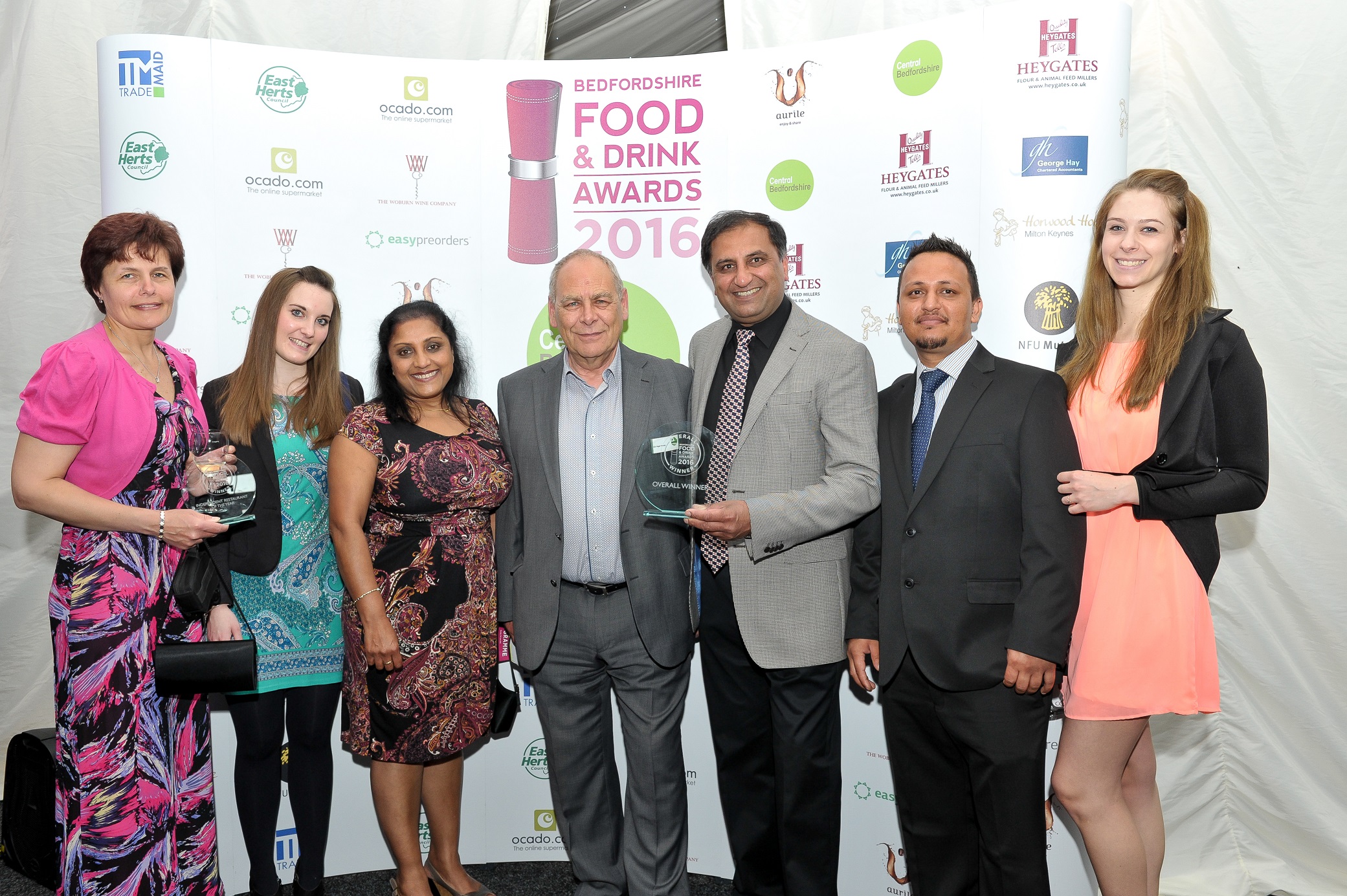 Central Bedfordshire Council and Bedfordshire Chamber of Commerce launch support programme to aid internationally trading businesses.
22/09/2021
As part of a wider business support programme, Central Bedfordshire Council is partnering with the Bedfordshire Chamber of Commerce to support businesses trading or wanting to trade internationally