Central Bedfordshire businesses celebrate awards success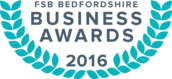 The young founder of a video production company was among the Central Bedfordshire winners at this year's Federation of Small Businesses Bedfordshire Business Awards.
Four winners and eight runners-up came from Central Bedfordshire, receiving awards in a range of categories including Best Customer Service, Best E-Business and Young Business Person of the Year.
Matt Worthington, 24, of Storm Video Production in Leighton Buzzard, who set up his company at the age of 20, was named Bedfordshire's Young Business Person of the Year, while Node IT Solutions, in Biggleswade, took home the Best E-Business award. Pecks Farm Shop, Eggington, and Foley Exhibitions, based near Silsoe, were joint winners of the Rural Business of the Year award. The eight runners-up included businesses from Dunstable, Houghton Regis, Westoning and Ampthill.
Winners
• BEST E-BUSINESS - Node IT Solutions (Biggleswade)
• RURAL BUSINESS OF THE YEAR – Joint Winners - Foley Exhibitions (Kitchen End, near Silsoe) and Pecks Farm Shop (Eggington, near Hockliffe)
• YOUNG BUSINESS PERSON OF THE YEAR - Storm Video Productions, Matt Worthington (Leighton Buzzard)
Runners up
• APPRENTICE OF THE YEAR - Trademaid, Carly Marjoribanks (Ampthill)
• BEST CUSTOMER SERVICE - The Chequers (Westoning)
• BEST NEW BUSINESS - Go Houghton Bar and Restaurant(Houghton Regis)
• BUSINESS INNOVATION -Node IT Solutions (Biggleswade)
• COMMUNITY BUSINESS OF THE YEAR - TK Furniture (Leighton Buzzard)
• ENTERPRISING BUSINESS – Stoten Gillam (Dunstable)
• NETWORKING GROUP OF THE YEAR - Networking at Dunstable (Dunstable)
• TRAINING AND DEVELOPMENT - Study Active (Biggleswade)
Central Bedfordshire Council sponsored the Enterprising Business award and pledged its full support to the event which attracted a record number of entrants this year and saw almost 220 people attending the ceremony at Warren Weir, Luton Hoo.
Cllr Sue Clark, Deputy Member for Regeneration, presented the Enterprising Business award. She said: "I would like to extend my heartfelt congratulations to all of the finalists, especially the winners and runners-up for such fantastic achievements.
"Central Bedfordshire Council is very proud to support this event, which received more than 100 entries this year. As a sponsor of the Enterprising Business award, we want to strengthen employment and business growth through working with partners and see this event as part of the work. We received comments from guests that were impressed to see the wealth of businesses in our area and made use of the networking opportunities it provides.
"With small and medium enterprises (SMEs) representing over 99 per cent of businesses in Central Bedfordshire, it's great to see them being recognised. Success at the awards reflects the hard work of our businesses and the entrepreneurial nature of the area. I look forward to our involvement in next year's event."
For more information about the Bedfordshire Business Awards, visit www.bedfordshireawards.co.uk. To find out how Central Bedfordshire Council supports local businesses, visit www.centralbedfordshire.gov.uk/business.