Central Bedfordshire Council and Bedfordshire Chamber of Commerce launch support programme to aid internationally trading businesses.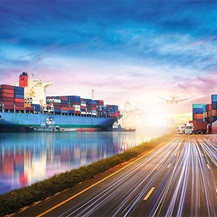 As part of a wider business support programme, Central Bedfordshire Council is partnering with the Bedfordshire Chamber of Commerce to support businesses trading or wanting to trade internationally by delivering a comprehensive package of global trade services.
The support package seeks to unlock the potential of Central Bedfordshire based companies, following covid restrictions being lifted.
The comprehensive package of global trade services, to help companies succeed in international trade will cover various areas including:
Adopting a global mindset
Overcoming barriers to trade
Exploring new markets
Showcase and Connect (virtual trade mission & inward investment showcase)
Practical advice and assistance will be accessible from October for businesses who are planning to export for the first time as well as businesses who are expanding on existing activities.
Councillor Kevin Collins, Central Bedfordshire Council's Executive Member for Planning and Regeneration said:
"Exports play an important role in our local economy and employment as well as the wider UK economy and we understand many businesses are seeking to make the most out of their opportunities overseas."
As outlined in our economic strategy, the council is taking an active role in supporting our local businesses stay and grow in Central Bedfordshire as well as embracing new opportunities and exporting is vital to a business's growth strategy."
It is also recognised that businesses with access to global markets are better placed to accelerate their recovery from the impact of the pandemic."
Councillor David Shelvey, Central Bedfordshire Council's Executive Member for Corporate Resources said:
"The Government's Additional Restrictions Grant (ARG) scheme has enabled the council to create a new partnership with the Bedfordshire Chamber of Commerce to provide support not just financially but giving over 200 local businesses the opportunity access to innovative support to benefit their recovery from the pandemic."
"The support package from the Bedfordshire Chamber of Commerce is designed to ensure the local business support eco-system delivers appropriate provision and accessibility to external resources to help businesses international trading and inward investment ambitions."
Justin Richardson, Chief Executive of Bedfordshire Chamber of Commerce, added:
"We're thrilled to be again working in partnership with Central Bedfordshire Council to deliver international trade support to local businesses.  The team at Bedfordshire Chamber of Commerce are dedicated to supporting companies realise their full potential when it comes to the global marketplace."
Contact details to access this support package:  Businesses interested in finding out more about the programme should visit https://www.chamber-business.com/goglobalcbc.  Alternatively, you can contact the Global Trade Service team on 01582 522448 or email export@chamber-business.com.