Central Bedfordshire Council shortlisted for three awards celebrating excellence in local government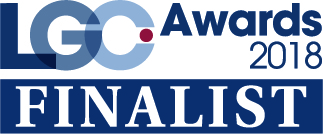 Central Bedfordshire Council has been shortlisted in three categories in the LGC Awards 2018 which celebrate excellence in local government. Two of these awards recognise Central Bedfordshire Council's approach to commercial thinking and commitment to driving sustainable growth.
Council representatives will be interviewed by a further judging panel in January, to determine who will win the coveted 'Driving Growth' and 'Entrepreneurial Council' Awards, when they are announced on 21 March 2018.
Jason Longhurst, Director of Regeneration and Business, said,
"Like all Local Authorities, sustaining delivery at pace is paramount for Central Bedfordshire Council.  Growth, when managed appropriately, brings with it prosperity, aspiration, success and, ultimately, reinvestment in the critical services our communities need and want.   We knew that to achieve these priorities we must increase revenue, to not only maintain standards but to improve them across the board. 
"That required a radical rethink of the way we operate, but it is paying off.  Our approach enables new investment and growth, advances planning, coordinates the provision of Council services and, where necessary, provides a rapid response function to secure major investment opportunities for the area. It also plays a vital role in linking and supporting residents of Central Bedfordshire into employment, reducing reliance on benefits and other Government support."
"Being shortlisted for these Awards is a great endorsement of our new, commercial thinking and the hard work that has been put in by many people, Council-wide."
The Awards outlined a number of important initiatives: 
• The Council has established private sector-led sounding boards to nurture a prosperous environment for business growth. 
• An Enabling Delivery Team and Key Account Management Team were set up, the latter working with leading businesses to understand their growth needs and opportunities
• The Council is closing the skills gap through its Employment and Skills board, which has promoted a new way of working, bringing employers and education & skills providers together to shape local skills provision in Central Bedfordshire.
• Be Central Bedfordshire is already delivering on its objectives.  Property searches have increased, businesses have moved to the area or expanded their operations and others have maximised the Council's business services, all of which are clear and accessible via the website.  
LGC editor Nick Golding said: "To be shortlisted for an LGC Award shows a council service is among the country's most innovative, and doing the most to support the needs of local residents as councils face continuing budget cuts. We should salute the council officers and councillors doing the most to ensure our vital public services thrive in the era of austerity."