Coffee maker full of beans thanks to new funding!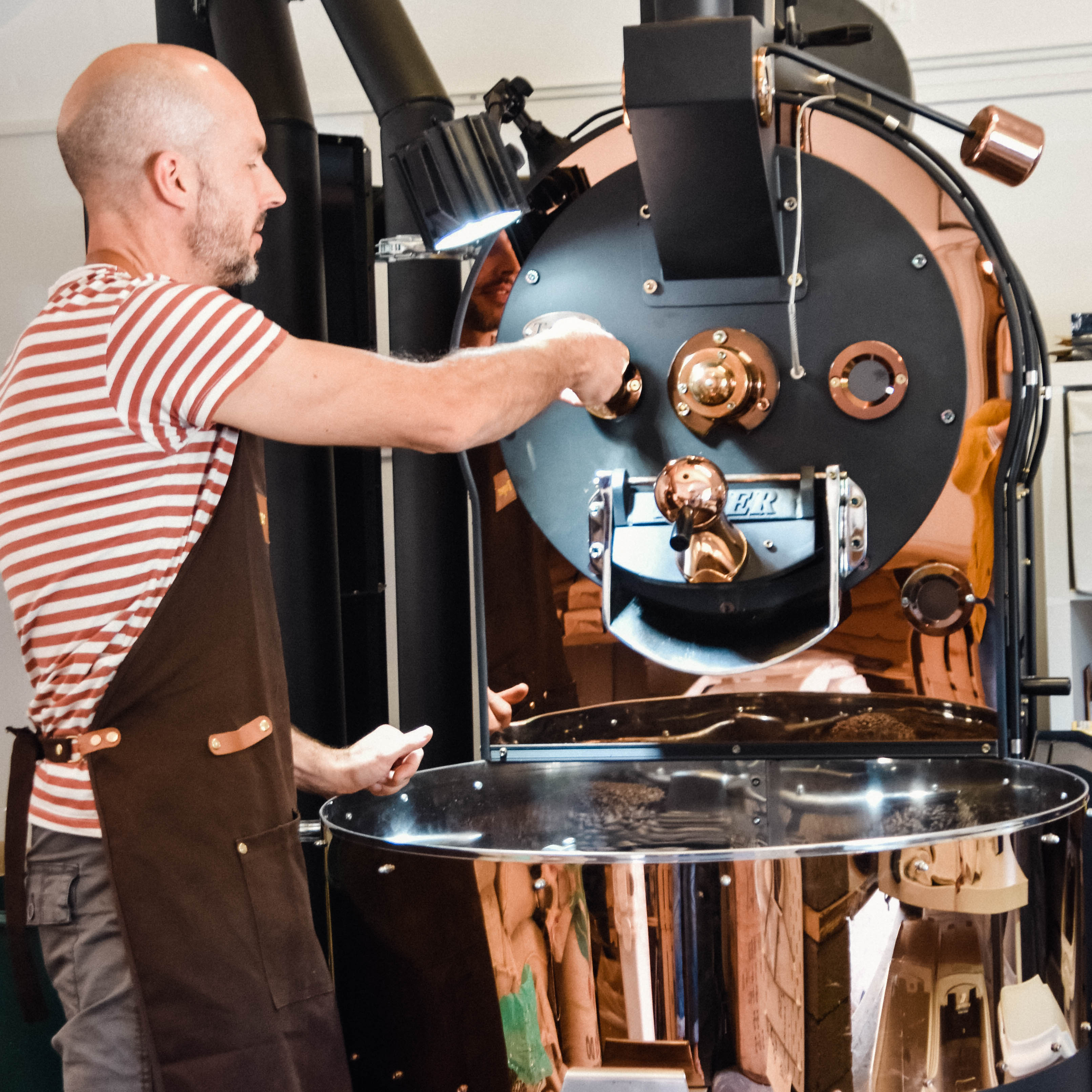 It was an antipodean dream conceived two decades ago when he fell in love with the Australian café scene and now, twenty years on, a Bedfordshire businessman is expanding his coffee empire thanks to funding from a project helping food and drink manufacturers in the region.

Robin Sibley runs Ampthill-based Wooden Hill Coffee Company, an ethical roastery, shop, café and barista training firm, and recently received a grant of over £5,000 from FEAST2 (Food Enterprise Advisory Support Team), a scheme offering access to funding, sector events, mentoring and technical support to eligible businesses, which has enabled him to purchase his own roaster and grinder.

Having set up the company at the end of 2015 after gaining experience in Sydney, running his own coffee shop in the UK for two years and then more than a decade working as a sales rep for a well-known coffee firm, Robin says the introduction of the new equipment could not have been more timely and is already transforming their operations: "It had always been my goal to roast my own coffees but, without the right equipment, I had to use some else to do that for me and always felt that my many years' experience and expertise were being wasted" explained Robin. 

"Thanks to the grant I can now do that in-house, which means I have been able not only to have total control over the quality of the blends but also to up my production to keep pace with the increasing demand, something I simply couldn't have done before the kit arrived.

"Indeed, I've seen a twenty percent growth since we bought it and have even taken on a new member of staff and that's been without going in search of new customers, so I'm really excited about the opportunities ahead" he added. 

So, with the opportunity to gain further guidance from the project through its technical support service and mentoring programme, would Robin recommend FEAST2 to others?:
"Given the massive, indeed invaluable, impact that the grant has already had, as well as knowing I can take advantage of the other elements on offer if I need to, I'd absolutely urge any food and drink producer to get in touch and see if the team can help" urged Robin.

"Sadly I think sometimes people are put off by what they see as the red-tape that often surrounds these kind of schemes but, thanks to the ongoing support from my FEAST2 advisor, the whole grant application was quite simple and I received the money really quickly so, if you'll pardon the pun, it was then just full steam ahead!

"All in all, I'd say that was grounds for celebration, wouldn't you?" grinned Robin.

FEAST2 was awarded to the Food & Drink Forum and is worth £3,934,176 in total. It will receive a further £1,967,089 in funding from the European Regional Development Fund as part of the European Structural and Investment Funds Growth Programme 2014-2020. 

It is open to eligible food and drink manufacturers within the SEMLEP (South East Midlands Local Enterprise Partnership) area, covering Central Bedfordshire, Bedford Borough, Luton, Milton Keynes, Aylesbury Vale in Buckinghamshire and Northamptonshire.

For more details of the project, including registering your business for the free support on offer, please contact Amanda Askew at The Mallows Company on 01933 664437 or email amanda@themallowscompany.com
 
Meanwhile for more information about Wooden Hill Coffee Company, including online ordering, please visit www.woodenhillcoffee.co.uk or call Robin on 07903 436660.