Council completes A421 dualling upgrade into Milton Keynes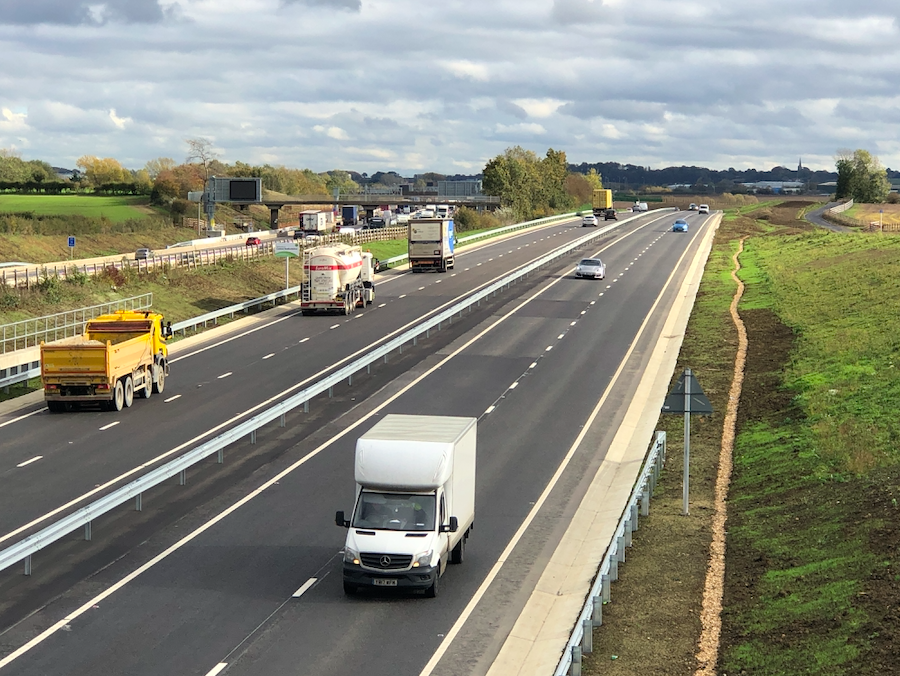 Central Bedfordshire Council, in partnership with Milton Keynes Council and the South East Midlands Local Enterprise Partnership (SEMLEP), is pleased to announce that works are complete on their project to upgrade a key section of the A421 road into a dual carriageway, which means that drivers can now enjoy a faster and easier route around Central Bedfordshire and Milton Keynes.
The 3km of the road has been upgraded to better link Junction 13 of the M1 motorway in Central Bedfordshire with Milton Keynes. The stretch runs from the roundabouts by the junction up to the new Eagles Rest housing development and the Altitude Magna Park logistics and distribution site in Milton Keynes.
As the majority of this section falls into Central Bedfordshire, Central Bedfordshire Council has led on the project and has been working with Milton Keynes Council. The South East Midlands Local Enterprise Partnership (SEMLEP) contributed £23.5million from the Local Growth Fund towards this £29.5million project which was authorised by the Department for Transport (DfT), and both councils each contributed around £3million.
Councillor Ian Dalgarno, Executive Member for Community Services at Central Bedfordshire Council, said: "I am delighted to see this final stretch of the A421 dual carriageway delivered on time. It's great to see investments in a road like this, which is used by almost 30,000 vehicles a day.
"This new dual carriageway will help ease congestion and take traffic away from local villages, increasing safety and improving air quality. It will also benefit local businesses and commuters by opening up the area for better access. Current and future residents will also now have improved access to leisure activities, housing and employment.
"The road is not only better for road users, but also for pedestrians, cyclists and horse riders. Previously there were no available routes for pedestrians alongside the A421, so we built a new cycleway which stretches along the length of the newly dualled A421 and a footbridge over it. The new cycleway is part of a future larger cycle network. The new footbridge, which includes a bridleway, will greatly improve facilities for pedestrians, cyclists and horse riders, who will benefit from being able to use our improved public rights of way."
Transport Minister Baroness Vere said: "These upgrades to the A421 will bring invaluable benefits to the people of Central Bedfordshire and Milton Keynes, and I am delighted to see our Local Growth Fund delivering with works being completed and delivered on time. As well as drastically cutting congestion and improving safety conditions, this project will greatly improve people's access to jobs and housing in the area.  
"This Government is committed to levelling up transport infrastructure across the UK, and our funding towards these important works is a very real example of that commitment".

Councillor Emily Darlington, Cabinet Member for Public Realm, at Milton Keynes Council, said: "I am pleased that this important gateway into Milton Keynes is finally complete. Many thousands of people that need it for their jobs and homes will have a better journey. This is a great example of how working together with other local authorities, DfT and SEMLEP can bring real benefits for the region and get the necessary infrastructure in place for our growing city."
Hilary Chipping, Chief Executive SEMLEP said: "I'm delighted to see this project complete, having seen the initial business case through the SEMLEP Board. This project received significant backing from local businesses and is a key part of improving travel routes between Milton Keynes and Cambridgeshire and, from this, we are already seeing development of new homes and growth in this area."
"Enhancing connections from Magna Park and the surrounding area, which is already recognised as a key logistics centre for the country will provide a boost to the economy as we strive to improve efficiencies and innovation in this critical sector."
The A421 forms a key section of the strategic east-west travel corridor and helps underpin the future of the Oxford-Cambridge Arc. Enhancing east-west connectivity is a key component of the enabling infrastructure which will help to create opportunities for the wider area to become the UK's innovation region, delivering growth in science and technology.