Cranfield student selected for inaugural Santander STEMships programme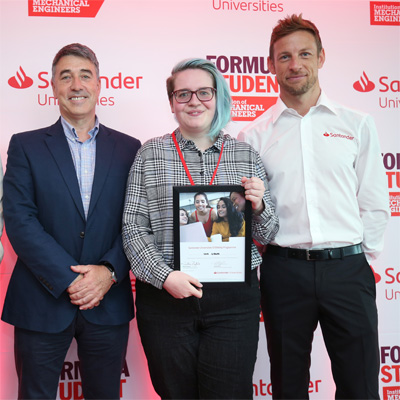 A Cranfield University student has been selected as one of the first ever beneficiaries of the inaugural Santander Universities STEMships programme. The initiative, launched by Santander UK, is dedicated to supporting female engineering students at universities across the country and aims to encourage more women to embark on a career in the UK engineering industry.
Sam Gibson, a PhD student in Transport Systems, is one of 30 chosen students who will embark on a two-year support programme which offers: a £1,500 scholarship; an overseas experience at a leading engineering institution; unique networking events with prominent female leaders in the industry; membership to the Women's Engineering Society; and mentorship and internship schemes through Santander's wider networks.
Recent research by Santander Universities identified a number of barriers cited by female students as deterring them from considering engineering as a degree and a career path, including difficulties with funding an engineering degree and a shortage of networks and communities designed to support women. The programme aims to break down the barriers for women entering the engineering industry, by providing aspiring female engineer students with the dedicated tools, resources and opportunities needed to succeed in the industry post-university.
Matt Hutnell, Director of Santander Universities UK, said: "We're thrilled to be launching our unique STEMships to support and inspire the next generation of women engineers from across the UK. Having worked closely with Formula Student teams across our partner universities, we recognise the challenges facing female engineering students as they look to embark on careers in the industry. We hope the programme will support them with their career ambitions."
Sam Gibson said: "I'm so happy to have been selected for the STEMships programme. The other applicants are fantastic - I look forward to connecting with them and making the most of all the other networking opportunities offered by the scheme."