Flight simulator at Cranfield University wins international award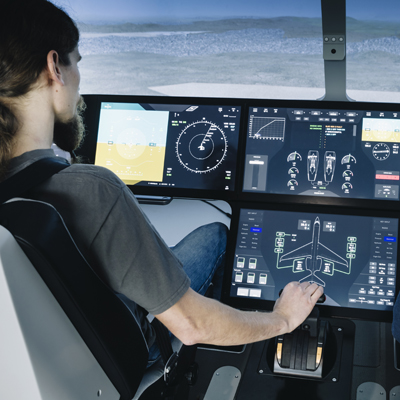 The Rolls-Royce Future Systems Simulator housed in Cranfield University's Aerospace Integrated Research Centre (AIRC) has been granted an iF DESIGN AWARD.
The internationally acknowledged iF DESIGN AWARD identifies outstanding design, its relevance for business and everyday life, and awards one of the most important seals of quality in the world. Awarded in Germany since 1953, the iF label is a reliable sign of good design for consumers as well as the design community.
Dr Tim Mackley, Head of AIRC, said: "The Future Systems Simulator is an outstanding piece of technology. Very few academic organisations in the world have such a versatile facility and we're delighted it has received such a prestigious award. The simulator emulates a flight deck and can be reconfigured to represent aircraft of different types and sizes. This allows us to focus on problems ranging from handling qualities of novel aircraft configurations to information required to improve pilot decision making. It is already providing invaluable information to our industry partner, Rolls-Royce, as well as to our researchers and students."
Like other research equipment installed in the AIRC, the simulator is of the very latest technology. Rolls-Royce and Cranfield worked with DCA Design International to ensure a design of simulator that would fulfil its research requirements. The university was responsible for the simulation software which provides the ability to quickly model current and future aircraft configurations, as well as design new Human Machine Interfaces to enable pilots to make more informed decisions. Designed to be reconfigurable, the simulator can support research into dual pilot, single pilot and even autonomous flight.
Chris Hadlow, Chief Pilot Defence Aerospace & Project Pilot - Future Programmes at Rolls-Royce, said: "Winning this award is the result of a huge team effort and I'm proud that our work is being recognised externally. As we move into a period of aviation where there is great change on the horizon, this simulator offers us an opportunity to explore the future of flight and the information pilots will need to operate safely with new technology. It's an extremely exciting time in aerospace and it's great that Rolls-Royce are at the forefront in a new age of aviation."