Flitwick Transport Interchange – improvements ahead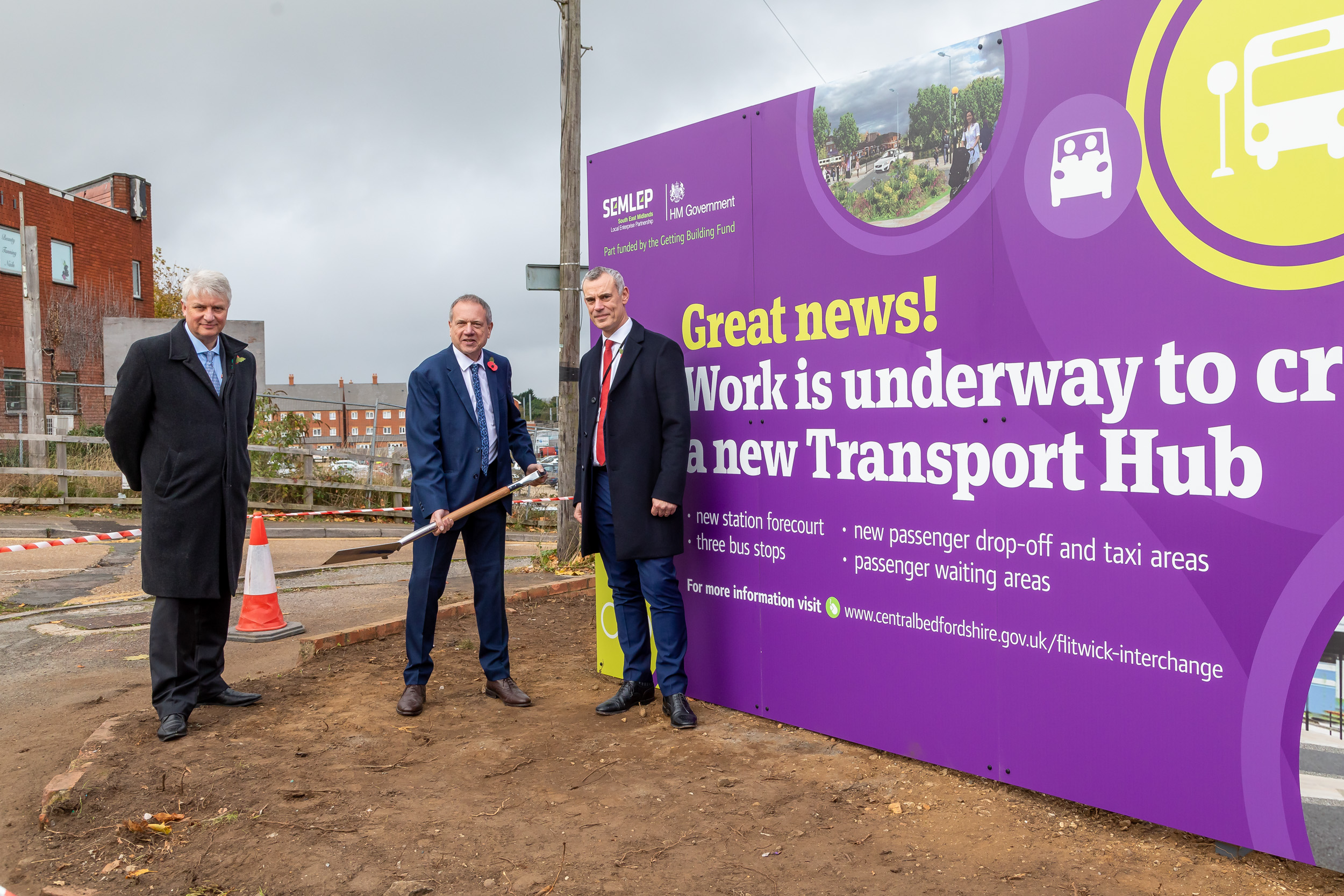 A new station forecourt, taxi and passenger drop off areas and dedicated facilities for Center Parcs Woburn visitors are all on their way at a new transport interchange in Flitwick.
Councillor Richard Wenham, Leader of Central Bedfordshire Council, led an official ground-breaking event today to mark work starting on Central Bedfordshire's new £4.8 million development.
Representatives from Central Bedfordshire Council, South-East Midlands Local Enterprise Partnership (SEMLEP), Network Rail and Govia Thameslink Railway attended the ceremony at Flitwick train station.
Along with SEMLEP, who are contributing £2.2 million secured from the government's Getting Building Fund, the council is investing nearly £2.5 million into the project, alongside £167,000 in Section 106 developer contributions.
Leader of Central Bedfordshire Council, Councillor Richard Wenham, said: "I am delighted to see work getting started on this important scheme for Flitwick. The Council continue to invest in a range of important projects in communities across Central Bedfordshire and we are delivering on our vision to make our area a great place to live and work."
Executive Member for Planning and Regeneration, Councillor Kevin Collins, said: "Residents and commuters will benefit from far better transport links once the new transport interchange is built. The project is an important element of regeneration in the town centre, and I am excited to see the works progress."
Judith Barker, Director of Programmes and Governance, SEMLEP added: "The Flitwick Transport Interchange is a good example of sustainable development. Not only will the project create jobs, create new passenger facilities and regenerate the station area, it also increases sustainable and accessible transport options. The scheme will better enable over 170,000 trips to be made by foot, bike or bus rather than by car. As part of investment through the Getting Building Fund, the scheme enabling even greater connectivity and economic growth at the heart of the Oxford Cambridge Arc."
Works are set to be completed by March 2023.
Once the interchange is completed, Network Rail is developing proposals for step-free access to all platforms at Flitwick rail station. This scheme is due to be delivered by 2024 and will provide a new footbridge and lifts to all platforms. The council is continuing to work closely with Network Rail and Govia Thameslink Railway to secure Access for All (AFA) funding from the Department for Transport.