Free online adult learning courses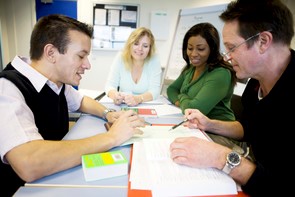 Courses are delivered by our in-house teams as well as a range of external training providers working as part of the Bedfordshire Employment and Skills Adult Learning Service (BESS) partnership.
BESS currently has over 40 workshops and courses to choose from that are FREE* (*subject to eligibility)
Most courses are enrolling during June, July and August. Some courses are accredited so you can work towards qualifications to help you gain work or support a career change or career progression.
 
The BESS curriculum includes:
• English
• ESOL (English for Speakers of Other Languages)
• Maths
• IT and digital skills
• Support with wellbeing and mental health
• Preparing for employment
• Working with and supporting children and young people
• Apprenticeships
 
A list of workshops and courses with information and how to enrol can be seen by looking at our upcoming course list.
An overview of the workshops and courses available can be seen by looking at our curriculum map.
If you would like someone to help you get started on the right course please contact us with your details. Use the comments box in the online form to let us know what learning you are interested in. An adviser or the relevant training provider will then get in touch to help get you started.
 
BESS has advisers that can help furloughed, unemployed and employed adults
Support includes:
• Identifying your skills and areas for development
• Finding courses to help you develop your skills
• Making improvements to your CV
• Help with job applications
• Interview preparation
To arrange support please contact us with your details. Use the comments box in the online form to let us know how we can help you. A adviser will then get in touch to provide one-to-one support
Contact Us
For learning and support into work use our 
contact us
 online form
Email: NCS@centralbedfordshire.gov.uk
Telephone: 0300 300 8110