Hundreds attend free jobs and training event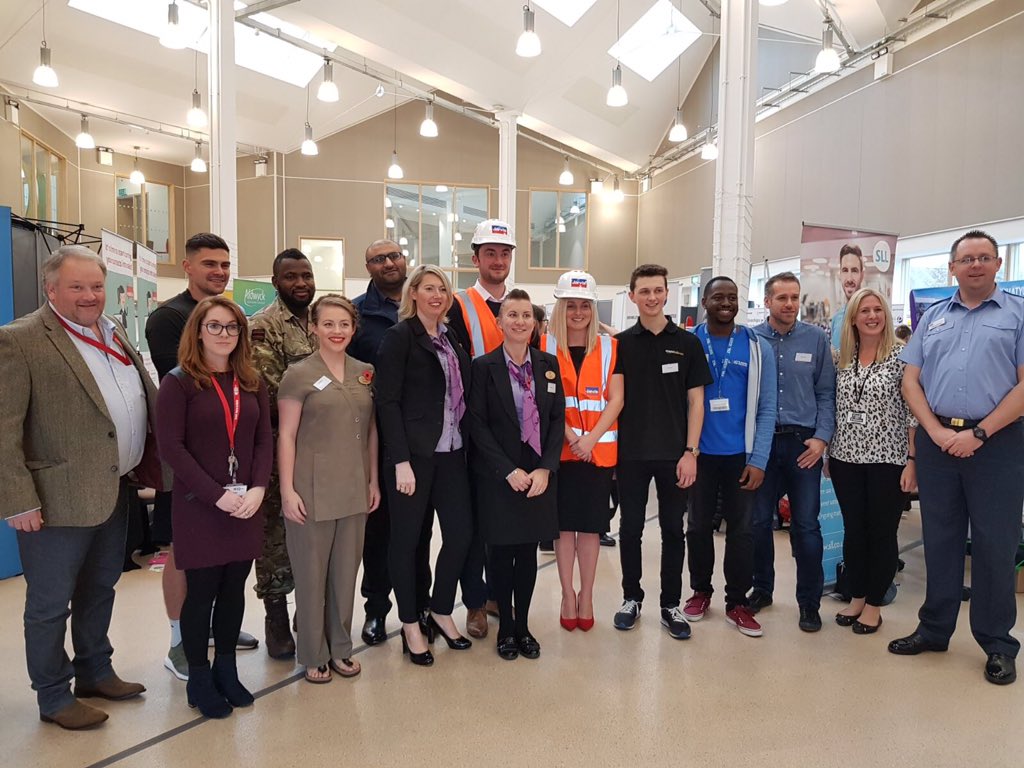 Central Bedfordshire Council's first-ever Find Your Future employment and training fair proved a huge success, with hundreds of people passing through the doors of The Incuba, in Dunstable, over the course of the day.
The day was organised in conjunction with Central Bedfordshire College and part sponsored by CITB and took place on Thursday 2 November.
Around 450 pupils from 15 schools and academies attended the morning session, with all benefitting from at least one of the information sessions that were running. That included pupils from five special schools. They also had the chance to speak with representatives from more than 50 different exhibitors, made up of leading local and national businesses and organisations.
That was followed by around 150 residents attending in the afternoon, many of whom benefitted from a National Careers Service information and advice session.
Initial feedback has been very positive with 86 per cent of students who came along rating the overall experience a positive one, while 82 per cent said that they benefitted from attending.
That is backed up by responses from the afternoon with 94 per cent of attendees saying that they found the event useful and 91 per cent saying that they would attend a similar event.
A number of visitors managed to secure jobs or apprenticeships at the event, with one saying that he found a job "30 seconds after walking in the door".
Councillor Steven Dixon, Executive Member for Education and Skills, said: "I was delighted to be able to attend the Find Your Future event and speak with some of the hundreds of students who attended. I was impressed with how engaged and focused they were and how much they clearly gained from attending the event.
"When you're still at school the world of work can seem a long way off. But by getting the right advice early which allows you to make the correct choices, that'll really give you a head start when it comes to choosing what you want to do in life.
"I would like to thank all of the businesses, organisations, staff, schools, students and all those who attended in the afternoon for helping to make the event such a success. I know that some people landed jobs as a result of attending which is brilliant while others benefitted from speaking with the experts and gaining a clearer idea of what they want to do – and how they can do it." 
Liam Meenam, Assistant Headteacher at Weatherfield Academy, said: "It was a very well organised event that our students enjoyed, were motivated by and supported them in finding their future."
Shani Hawkins, Manshead CofE Academy's Careers Coordinator, said: "It was good for students to meet local employers in a more personal environment as large venues with loads of stands can sometimes be too big and overwhelming."
A local employer, Andrea Rodney, Director of Hone All Precision Ltd, in Leighton Buzzard, said: "Thank you to Central Bedfordshire Council for all their hard work and commitment to engaging and educating the young people within the area and inspiring them with both future career and study opportunities.
"I was honoured to be a part of the day and thoroughly enjoyed the interest, interaction and feedback from the students who attended the session I hosted –including surprising them with the earning potential within the manufacturing sector."
Domonic Bacon, Managing Director of RIF Logistics, in Dunstable, said: "I was very impressed with the workshop for SEND pupils. It was great to see the level of support given to the candidates and the great potential they have as employees of local businesses."
Image : Cllr Steven Dixon (far left) with local businesses