Join the World's Biggest Bike Ride this Bike Week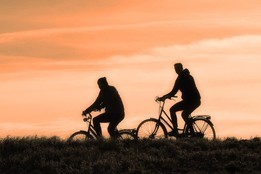 We're now into May and that means one thing - the World's Biggest Bike Ride starts this month.
We are working alongside Cycling UK – a member organisation supporting cyclists and promoting bicycle use – during Bike Week (30 May to 5 June) to encourage more people to choose cycling as part of their daily travel and exercise.
The theme for the week is health and wellbeing. Whether you ride solo, in a group or on a bicycle made for two, cycling has the power to turn a good week into a great one.
To be in with a chance to win some exciting prizes, all you need to do is sign up to the event and log your rides. It doesn't matter if you ride every day or haven't been on a bike in years, you just need to set yourself a goal and achieve it – it's that simple. Any kind of cycle ride counts no matter how far you go or what your motivation is.
Thousands of people, all ages and abilities took part in the first World's Biggest Bike Ride last year and it's expected to be even bigger for 2021.
Cycling is also a great way to explore where you live. To help with this, the council has produced a series of maps to help you plan your rides. They contain a range of useful information including National Cycle Network routes, on and off-road sections, local places of interest and the location of cycle parking.
Before you set off on your journey, you should always check your bike. It will reduce the chance of anything going wrong while you are out riding and give you peace of mind. If you aren't sure what to look for, a handy video guide covers the essential checks you should do.
Councillor Ian Dalgarno, Executive Member for Community Services said:
"This Bike Month we would like to encourage more people to enjoy the freedom of two wheels, by getting out to explore some of our beautiful routes across Central Bedfordshire, while being in with a chance of winning some amazing prizes."
Cllr Tracey Stock, Executive Member for Health, Wellbeing and Communities said:
"It's been great to see more residents getting out on their bikes during the pandemic. Riding a bike has so many benefits for our physical and mental health. It helps combat stress and anxiety, gives you the chance to exercise and get some fresh air, but to also discover new places in your local area."
Employers can also to sign up for the Governments Cycle to Work scheme to offer staff tax-free bikes at a 40% to 50% discount from shop prices.