Kingsland Legacy kick-started as West Ham United and Brighton footballers pay school a visit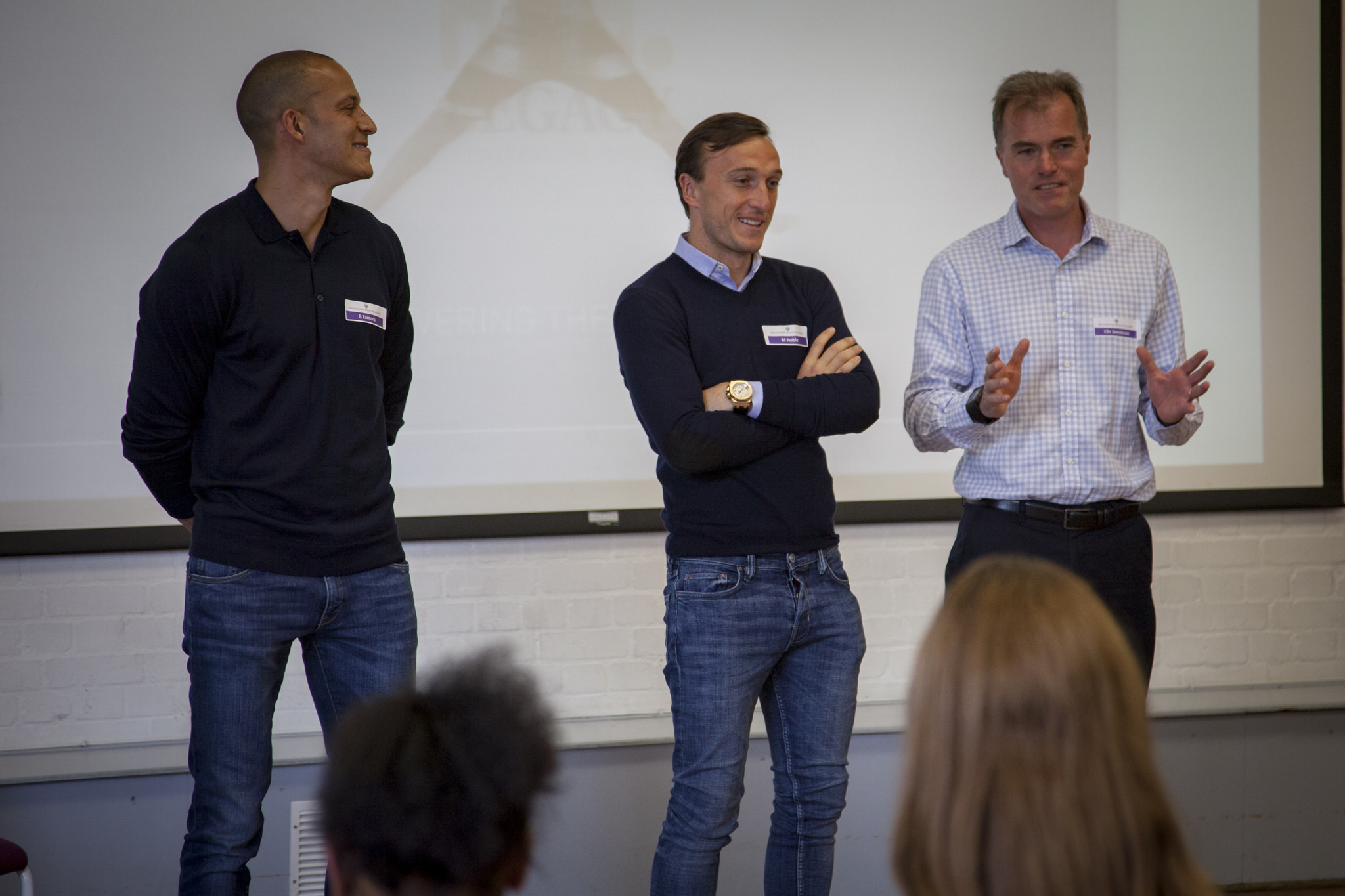 Central Bedfordshire Council's partnership with the Legacy Foundation on a major sport-led regeneration scheme in Houghton Regis began delivering on its community focus promise as football stars Mark Noble and Bobby Zamora paid a surprise visit to the Kingsland site to discuss their plans with local children.
This comes two months after the authority agreed a six-month exclusivity deal to work with the Foundation – a development company set up by the duo and former England captain Rio Ferdinand in 2015 – and the Department for Communities and Local Government (DCLG).
This agreement was a statement of intent to develop plans for an innovative pilot scheme aimed at transforming the lives of young people with a publicly accessible top-class sports academy, linked to high-quality housing, education, skills, jobs and community facilities.
Mark and Bobby visited the Kingsland campus on Wednesday (May 11) to learn more about the area and develop their understanding of the site's key users. They met with young people from local schools, Houghton Regis Academy, Academy of Central Bedfordshire and Chiltern Special School, to listen to their thoughts and aspirations for the scheme and answer their questions before having a game of football and posing for pictures.
Mark told the children that captaining West Ham in an historic 3-2 victory over Manchester United the night before – the last ever match at the Irons' 112-year-old Boleyn Ground – was his favourite moment as a footballer, calling it a "special" atmosphere.
Speaking of his visit to Kingsland, the midfielder said: "It was great to visit to show our support for a scheme we really believe in and an area that we really want to help make an even greater place to live. From the outset, when we created Legacy, we wanted to put sporting facilities and educational facilities at the heart of the communities and when we met Central Bedfordshire Council they believed in that and fully believed in our scheme."
Bobby discovered that football was high on the children's' agenda for the Kingsland Legacy project, while one child had dreams of becoming a 100-metre sprinter. Talking of his time answering questions and having a five-a-side kick-about with the kids, the striker said: "It always puts a smile on my face. There were some good characters there and I was pleased that they came out with some good questions. Hopefully Legacy can help Central Bedfordshire develop the area and create great communities."
Central Bedfordshire Council Leader, Cllr James Jamieson, said: "We are in the very early stages of an exciting process with Legacy about how we can regenerate the Kingsland area of Houghton Regis and, while we think it's a great place at the moment, we really think it has huge potential for the people that live there and especially the young people. There is a lot of work still to do but it's clear that Bobby Zamora and Mark Noble were able to pass on their experience of sport as a driving force for aspiration. We are striving to ensure we can deliver our shared vision of improving the lives of young people through skills, education and accessible homes."
Legacy and the Council are now working towards establishing the financial models, the most sustainable housing and facility mix and the best design and layout, which can unlock the site's potential, with the aim to submit outline planning permission later in the year.
Click here to watch a video of the visit. 
Find out more about the Kingsland project and the Legacy Foundation.
Photo Caption (left to right) Bobby Zamora, Mark Noble and Cllr James Jamieson.