Local Business Networking Event returns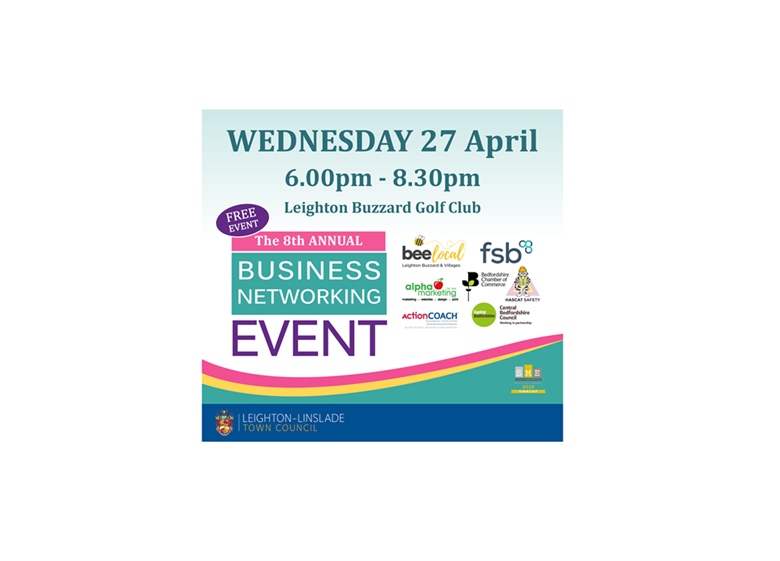 Many local businesses have already registered for the upcoming spring business networking event at Leighton Buzzard Golf Club on Wednesday 27th April (6pm - 8.30pm).
All businesses within the area are welcome to come to the event, which is being organised by Leighton-Linslade Town Council in conjunction with Central Bedfordshire Council, Federation of Small Business, Bedfordshire Chamber of Commerce and other local partners.
Visitors will be able to share information and network with like-minded people, build their supplier base, hand out business cards, develop links with the community and discuss business support opportunities with council representatives and other organisations.
The guest speaker Chris Davies from Sandler Training will deliver useful business information relating to the challenges businesses face. Chris will be delivering two thought provoking seminars entitled "Ever felt a 'Buyer' or 'Employee' has the upper hand?" and "Are you 'Busy' or are you 'Effective'?"
A bar service, hot and cold refreshments and canapés will be available. You will be able to use the latest digital networking technology from Blendology. Register and attend for your chance to win £250 towards your business or a round of golf at Leighton Buzzard Golf Club.
Past events have attracted over 100 businesses, who, following the event expressed positive feedback. It is anticipated more local businesses will attend this year's event. Through our partnership working, the Business Networking Event has been shortlisted as a Networking Group of the Year Finalist at the SME Luton & Bedfordshire Business Awards 2019.   
Representatives from businesses large and small can register for the event by visiting www.leightonlinslade-tc.gov.uk