Nadine Dorries MP visits Lockheed Martin UK to promote engineering careers in Bedfordshire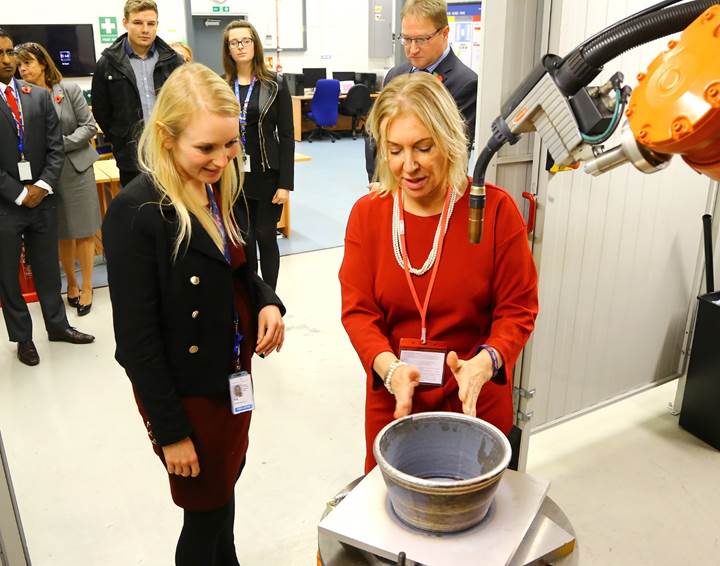 On Friday 11th November, graduates and apprentices from Ampthill-based Lockheed Martin UK met Nadine Dorries MP to talk about the innovative projects they work on and how they're inspiring others to take up science and technology careers.
During her visit to Ampthill, the Mid Bedfordshire MP viewed some of the latest developments taking place at the facility including a tour of their state-of-the-art turret manufacturing facility, an overview of their production operations and the 3-D cutting edge technology Wire Arc Additive Manufacturing (WAAM) capability.
The facility employs some 900 people who work on cutting-edge design and development projects.  The company is also a member of the 5% club, a government initiative where businesses commit to 5% of their workforce consisting of apprentices, sponsored students and/or graduates on formalised training schemes.
In addition to providing highly skilled employment opportunities the company has a structured outreach programme and works with local schools and colleges helping to inspire the next generation of engineering students.
Nadine Dorries MP said:  "I'm passionate about encouraging careers in technology and engineering, so it's been great having the chance to meet so many talented young people in my constituency as they start out on their careers. Lockheed Martin are a major, innovative, employer and it's been fascinating learning more about the work they're doing."
Alan Lines, Vice President and Managing Director, LMUK Ampthill said: "We are delighted that Nadine Dorries MP was able to visit us today to learn more about our early careers programmes and to see the ongoing investment we are putting into building a world class facility for the highly skilled engineering and manufacturing work we undertake here in Ampthill"      
Photo:
Graduate engineer Katharine Allison shows Nadine Dorries MP the 3-D cutting edge technology Wire Arc Additive Manufacturing (WAAM) capability during her visit to Lockheed Martin UK Ampthill.