New homes, jobs and skilled students thanks to £265million funding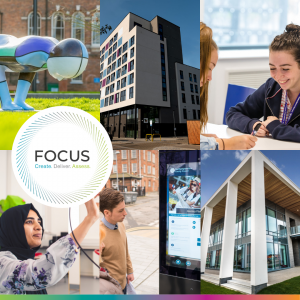 By the year 2030 more than 40,000 new homes will be built, 22,000 people in new jobs and at least 9,000 more learners qualified across Northamptonshire, Bedfordshire and in Milton Keynes.
A report, commissioned by the South East Midlands Local Enterprise Partnership (SEMLEP), has been published – focused on the economic impact of SEMLEP's £265million Local Growth Fund (LGF) investment programme.
The multi-million-pound pot of funding, which has funded 55 capital projects across the area between 2015 and 2021, has been used to support business growth and productivity, fund new transport schemes and homes, and generate new jobs and opportunities for students.
Hilary Chipping, Chief Executive of SEMLEP, said: "Our Local Growth Fund investment has transformed and continues to transform the South East Midlands, significantly boosting the economy and creating new jobs, apprenticeships, learning opportunities and commercial floorspace.
"This report demonstrates that with clear strategic direction, vision and collaboration, fantastic results can be achieved. Whilst at first the projects we funded had a strong focus on transport due to much of the LGF budget coming from the Department for Transport, our project focus shifted in line with our Local Industrial Strategy to support business, innovation, low carbon and skills, which then attracted significant private sector investment."
Here are just a few examples of the 55 projects funded:
People and skills: Education and training has been one key focus for the LGF fund, with SEMLEP investing in the construction of Moulton College's Food and Drink Innovation Centre in Northampton, the relaunch of Tresham College's Wellingborough campus and new MK:U pilot Degree Apprenticeship programmes being developed by Cranfield University in Milton Keynes.
Other skills projects included Bedford College's Advanced Engineering facility, a new state of the art Engineering and Construction Skills Centre in Leighton Buzzard and several projects at Northampton College – a new campus in Daventry, a new Digital Academy, and a state-of-the-art Advanced Construction Engineering (ACE) Centre at its Booth Lane Campus.
Places and regeneration: The Vulcan Works in Northampton town centre was a largely derelict building, now transformed into a business and learning space for creative industries. In Luton, the Hat District has also been transformed, with its three historic buildings transformed into spaces for creative and digital entrepreneurs, emerging talent and established businesses. A major road project was the dualling of the A421 between Junction 13 of the M1 and Milton Keynes.
Business innovation: In Charwelton near Daventry, Catesby Aerodynamic Research Facility is turning a former 1.7 mile railway tunnel into a fully controllable vehicle testing facility, while at Millbrook in Bedfordshire a new 4WD heavy duty vehicle emissions facility will test buses, trucks and off-highway vehicles for emissions, fuel and lubricant performance and climatic performance. In Raunds, Northamptonshire, the new Enterprise Centre: East Northants now offers business units of all sizes, to nurture start-ups and business growth. The centre opened mid lockdown, creating more than 60 new jobs and supporting 20 new business start-ups, the centre is now an Economic Recovery Hub for North Northamptonshire Council.
Peter Horrocks CBE, Chair of SEMLEP, said: "I am immensely proud of the whole team for the successful delivery of so many outstanding projects. In particular, I want to draw attention to one sentence in the evaluation summary, which I wholeheartedly agree with – 'Programme management is overwhelmingly seen as extremely strong and an example of best practice. Relationship building and beginning to end involvement is exemplary and considered a key contributor to the success of the programme.'
"Having seen at the board how tightly the team manage the programme and on site how strong relationships are with all partners, I am not surprised by the findings - a real tribute to the whole SEMLEP team."