Rio Ferdinand partners Central Bedfordshire Council in bid to leave lasting Legacy in Houghton Regis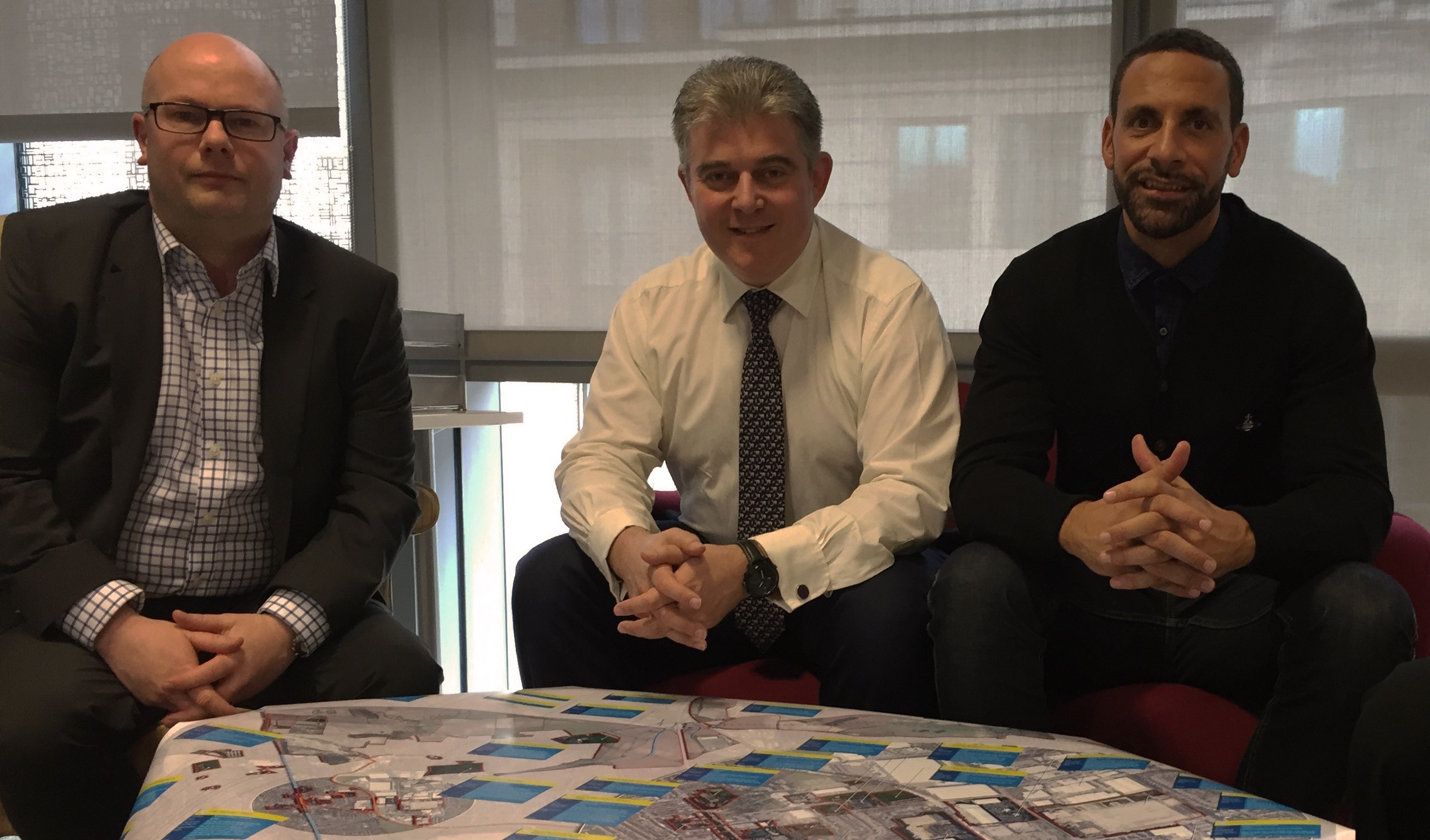 Former England captain Rio Ferdinand has today announced Government-backed plans to partner Central Bedfordshire Council and regenerate one of the most deprived areas in Houghton Regis with a world-class sports academy, education and community facilities to transform the lives of young people.
Legacy – the former Manchester United defender's regeneration company, set up in 2015 with footballers Mark Noble (West Ham) and Bobby Zamora (Brighton) – will partner Central Bedfordshire Council to revitalise an area of Houghton Regis called Kingsland, which is in the 20 per cent most deprived areas in the UK, with 41 per cent of children living in income deprived households.
Set in the 22-hectare Kingsland site, this is an innovative pilot scheme which Legacy aims to roll out across the UK. It will see Houghton Regis benefit from a leading sports academy – with potential as the base for the Rio Ferdinand Foundation – while the former England international will personally coach aspiring young footballers. With sport at its heart, this will help engage young people and encourage them to better their lives and career prospects by linking education, leisure, sports and skills with new homes.
 
Rio Ferdinand, chairman of Legacy, said: "We aim to help all young people develop to their full potential. My team-mates and I have seen at first hand the transformational effect that football can have on young lives. It transformed my life and I intend to use my platform to forge a legacy for young people everywhere. Legacy is building for people by responding to the needs of local communities and, by doing this across the UK, we will be building a brand and a long-term relationship with the people who live in our homes."
Today at MIPIM 2016 – alongside Rio Ferdinand and Housing Minister Brandon Lewis MP – Central Bedfordshire Council Leader Cllr James Jamieson introduced a six-month period of exclusivity with Legacy to develop the plans for the Kingsland project.
He said: "At Central Bedfordshire we're all about transforming communities, making places the very best they can be and enhancing life chances for residents, especially the young, by giving them the skills to change their futures.
"We are both proud and excited to be working with people who share these ambitions, colleagues from Central Government, our partners in Aviva and, of course, the inspiring and passionate advocate of social change, Rio Ferdinand. So it is with delight that we announce these plans for Kingsland as a statement of intent to regenerate 22 hectares of our land for this inspirational sport-led development, to be brought forward by Legacy."  

Turning housing on its head
The Kingsland project, which comes with the full support of the Department for Communities and Local Government (DCLG) and Housing Minister Brandon Lewis MP, is set to 'turn housing on its head' by building more than 1,000 new homes with community as its focus. These will be desirable, modern, purpose-built living spaces in a range of tenures, but Legacy will deliver more social and affordable housing than any other.
Housing and Planning Minister Brandon Lewis MP said: "The Houghton Regis project that Legacy are announcing with Central Bedfordshire Council will show the way to creating vibrant communities, backed by private sector investment, and using new and innovative approaches to building new homes to buy and rent."
Rio Ferdinand is enthusiastic about working in Houghton Regis, saying: "Kingsland is a great example of the developments Legacy wants to roll out to key locations across the UK. We aim to start on site in early 2017 and to be delivering the first of our high-quality homes to a new generation of home-makers in Houghton Regis within a year of that date. Central Bedfordshire responded quickly to our request for sites, agreeing to work together to bring forward much-needed regeneration. The funding is in place via institutional and private equity, so we're up and running."
Cllr James Jamieson said: "We want to provide starter homes to give young people in Central Bedfordshire the chance to get on the housing ladder and homes for those employed locally, to truly make Central Bedfordshire a great place to live and work.
"Kingsland will help further regenerate Houghton Regis, an important town in which we are already committed to two planned major extensions. These will provide up to 7,000 new homes, 40-hectares of employment land, and a range of retail, leisure and other facilities, plus community infrastructure, including education, sports and green spaces. These will be complemented by excellent access to the new junction 11a on the M1 via strategic link roads from the A5 and Woodside."
Legacy and funding partner Aviva Investors is developing privately rented homes and homes for sale, together with social housing, with superior quality and designs of homes that form a community. The Legacy scheme will stimulate economic growth by including commercial and community facilities within the development, meeting local needs and contributing to the local economy.
Central Bedfordshire and DCLG will be working alongside the Legacy team on the Kingsland Houghton Regis development, which includes Aviva Investors, agents Colliers International and planning consultants Nathaniel Lichfield & Partners.
To keep up-to-date on this project as it progresses, go to: www.centralbedfordshire.gov.uk/kingsland.
For inward investment enquiries with Central Bedfordshire Council, contact the Inward Investment Team Tel:  +44 (0)300 300 8272 or email info@becentralbedfordshire.co.uk
www.becentralbedfordshire.co.uk
Photo caption from left to right:  Jason Longhurst Director of Regeneration and Business,  Brandon Lewis MP, Housing and Planning Minister, Rio Ferdinand.