Smashing success for Millbrook at low carbon vehicle event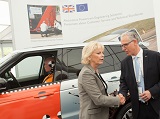 Every year the Cenex Low Carbon Vehicle (LCV) event, hosted at Millbrook, continues to grow, indicating an increasing interest and highlighting the rapid developments being made within the low carbon vehicle technology industry. With more than 2,850 exhibitors and visitors turning out for the two day event, Cenex LCV2015 was no exception.
The annual low carbon vehicle show provides a technology showcase of the latest in low carbon automotive innovation and Millbrook is proud to be the partner of Cenex for the annual event.
On day one, Millbrook welcomed the Rt Hon Anna Soubry MP, Minister for Small Business, Industry and Enterprise to its stand, where CEO Alex Burns explained the company's influential role in the low carbon vehicle industry and why it is the perfect partner at any stage in the development and launch of the vehicles of the future.
As well as a dynamic display of its expertise on its exhibition stand, Millbrook also offered track and laboratory tours, including a unique opportunity to witness demonstrations of the new Servo Sled and a one off full scale crash test, which was also streamed live into the presentation area at the event.
"We are an independent centre of excellence for vehicle test, validation and engineering services and support the production of vehicles of the future, making the annual Cenex LCV show a major event in the Millbrook diary," Said Alex Burns, CEO of Millbrook.
"This year we wanted to showcase even more of what Millbrook has to offer, in terms of its capabilities and facilities, in which we have invested heavily during 2015. For the first time, we opened up our crash test and servo sled laboratories for visitors to see first-hand the preparation, test and evaluation that goes into the vital work of ensuring occupant safety in new and developing vehicles," concluded Alex.
For further information about Millbrook's low carbon vehicle capabilities visit www.millbrook.co.uk/Technology-Groups.