Solar PV reduces carbon footprint for bespoke furniture manufacturer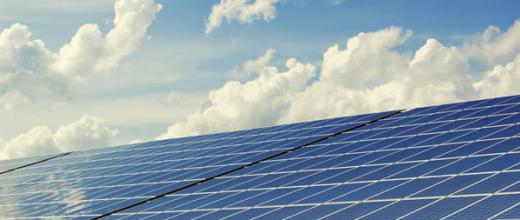 A luxury furniture manufacturer and high-end joinery company has invested in a solar PV system as part of a suite of measures to improve sustainability and maximise efficiency. And thanks to a grant from the Low Carbon Workspaces programme, it was able to save nearly £5,000 on the cost of the project.
One of the only UK-based bespoke furniture manufacturers and designers, the team at Middleton Joinery spent lockdown looking at ways to improve their cost base, whilst maintaining high-quality service and reducing their carbon footprint.
The nature of the business, based in Biggleswade in Bedfordshire, means that energy-intensive machinery including tooling, finishing machines and compressors are in constant use throughout the day, resulting in significant onsite energy consumption.
Before looking at investing in new, more energy-efficient machinery that would require additional training and costly downtime, Middleton Joinery first began to look at other potential areas for improvement.
"We know that our customers are firm believers in the importance of sustainability, and we spent the time during the pandemic researching ways to reduce our impact on the environment and invest in improving our overall efficiency," says Director, Danny Middleton.
As part of their sustainability focus, which included investing in a commercial wood-burning stove, a more efficient cardboard baler and wrapping machine, they recently installed a 13.6kWp solar array on their factory roof, with all of this activity coming in the space of the last 18 months.
Danny had some experience with solar energy and having had panels installed at his home, he wanted to explore the best way to use a solar PV system in the business.
As part of the tender process, it was calculated that 40 panels would be able to generate up to 14% of the energy currently being used in the factory. Further research and a prompt from their energy company led to the Low Carbon Workspaces website and a grant contribution of £4,666 to help cut carbon emissions.
"The grant meant that we could reduce the payback period of our investment," said Danny. "The whole process was really simple and accessible. By investing in these carbon reduction measures we have been able to improve our processes and make the business more resilient."
The new system was commissioned in January 2021 and Middleton Joinery estimate that they will be able to utilize 98% of the solar power generated. The team expect to realise cost savings of around £2,000/year in energy costs and a CO2e saving of 2.69 tonnes per year.
As the technology and battery storage improves in the future, it is anticipated that the company will install more panels with the goal of maximising onsite energy generation.
"Middleton Joinery are making great strides in decarbonisation and sustainability," said Jamie Gowers, Low Carbon Workspaces Project Officer. "The solar PV array will reduce their energy consumption from the grid and simultaneously reduce their day-to-day running costs."