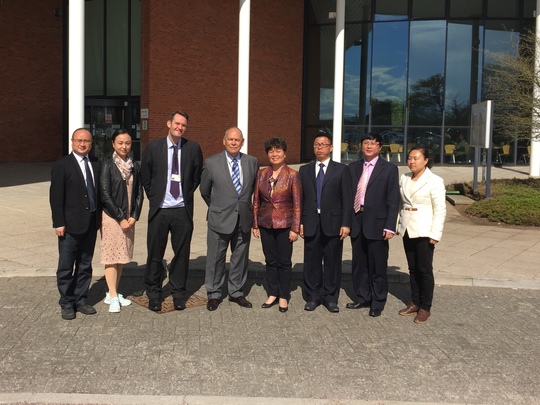 Executive Member for Regeneration, Cllr Nigel Young, has revealed his hopes of turning the visit of a special Chinese government trade delegation into "more jobs and more investment in Central Bedfordshire".
Watch this video as the councillor talks about meeting with from Xinzhou District People's Government in Shangrao City in Jiangxi Province; Jiang Lihua, Senior Consultant; Gao Weihua, Director; Yu Xiaohong, Director of the Foreign and Overseas Chinese Affairs Office; Zhang Junhua, Mayor of Lingxi Town; Xu Yihua, Director of Beimen Subdistrict Office; Zeng Hua, Mayor of Qinfeng Town and their guide, Pansy Yi-Hardie from tour organisers Chingland.
Central Bedfordshire was one of three UK locations – including London and Stratford-upon-Avon – visited by the Chinese delegation in order to explore potential business opportunities, develop co-operation, share best practice and to learn about British industry and culture.
There was also a particular interest in learning more about good examples of town centre regeneration, such as in Dunstable, and rural tourism construction.
Cllr Young and Head of Investment, James Cushing, also explained more about some of the area's centres of excellence – such as Millbrook Proving Ground and Cranfield University – and gave examples of how the authority is encouraging local, national and international businesses into the area, plus enabling large-scale investment and development.
Click here to view video on Central Bedfordshire Council's YouTube page.
Photo Caption: Cllr Nigel Young (fourth from the left) and James Cushing (third from the left) with the Chinese delegation outside the Central Bedfordshire Council office in Chicksands.