UK first for Leighton Buzzard train station following installation of kinetic flooring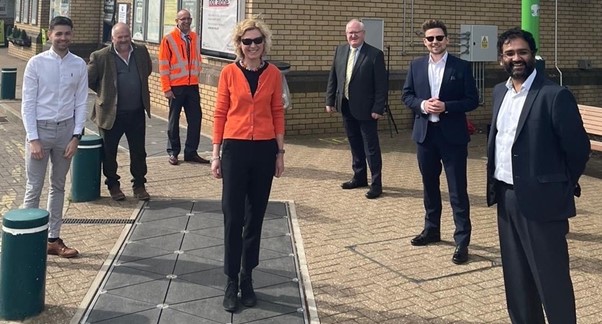 A system that uses kinetic energy from commuters' footsteps to power two phone charging benches and a real-time data screen has been installed at Leighton Buzzard train station.
Funded by the Department of Transport through a £22.9 million ADEPT SMART places Live Labs programme, we've installed kinetic flooring to raise awareness of sustainability through the footsteps of around 1.75 million people who travel to and from the station.
We secured £1.05m for the Live Labs programme, part of which is being used for the kinetic flooring, and partnered with Ringway Jacobs, West Midlands Trains and Pavegen, to create the project.
Councillor Ian Dalgarno, our Executive Member for Community Services, said:
I am delighted that we're part of this exciting and innovative trial as part of the ADEPT Live Labs Programme. This trial looks at how we could use kinetic energy to power nearby highway assets and having seen the installation I am really impressed with how the Pavegen technology works. It's our first Live Labs trial to be completed and I am certain it is something I think our residents will really engage with.
Giles Perkins, Live Labs Programme Director said:
The untapped footfall energy at our transport hubs represents a real opportunity to provide sustainable energy sources to power bespoke applications, while engaging audiences and encouraging behavioural change. This trial will help demonstrate the viability of the technology and could be a step change in the way transport hubs engage with commuters.
Picture - Left to right: Jack Bowers (Central Bedfordshire Council), Councillor Steve Dixon (Central Bedfordshire Council), Martin Heeley (Ringway Jacobs), Hannah Bartram (ADEPT), Councillor Ian Dalgarno (Central Bedfordshire Council) Laurence Kemball-Cook, (Pavegen) and Sanjay Patel (Ringway Jacobs)